Even 30,000 years ago, an ancient man, having learned to make needles and threads, practiced embroidery on clothes to give individuality to things. Such clothes often even had a name, were worn very carefully and dressed on a special occasion.
And, although such a thing as a wedding dress did not exist for a long time, nevertheless, the wedding was that special occasion for which the best and embroidered clothes were saved.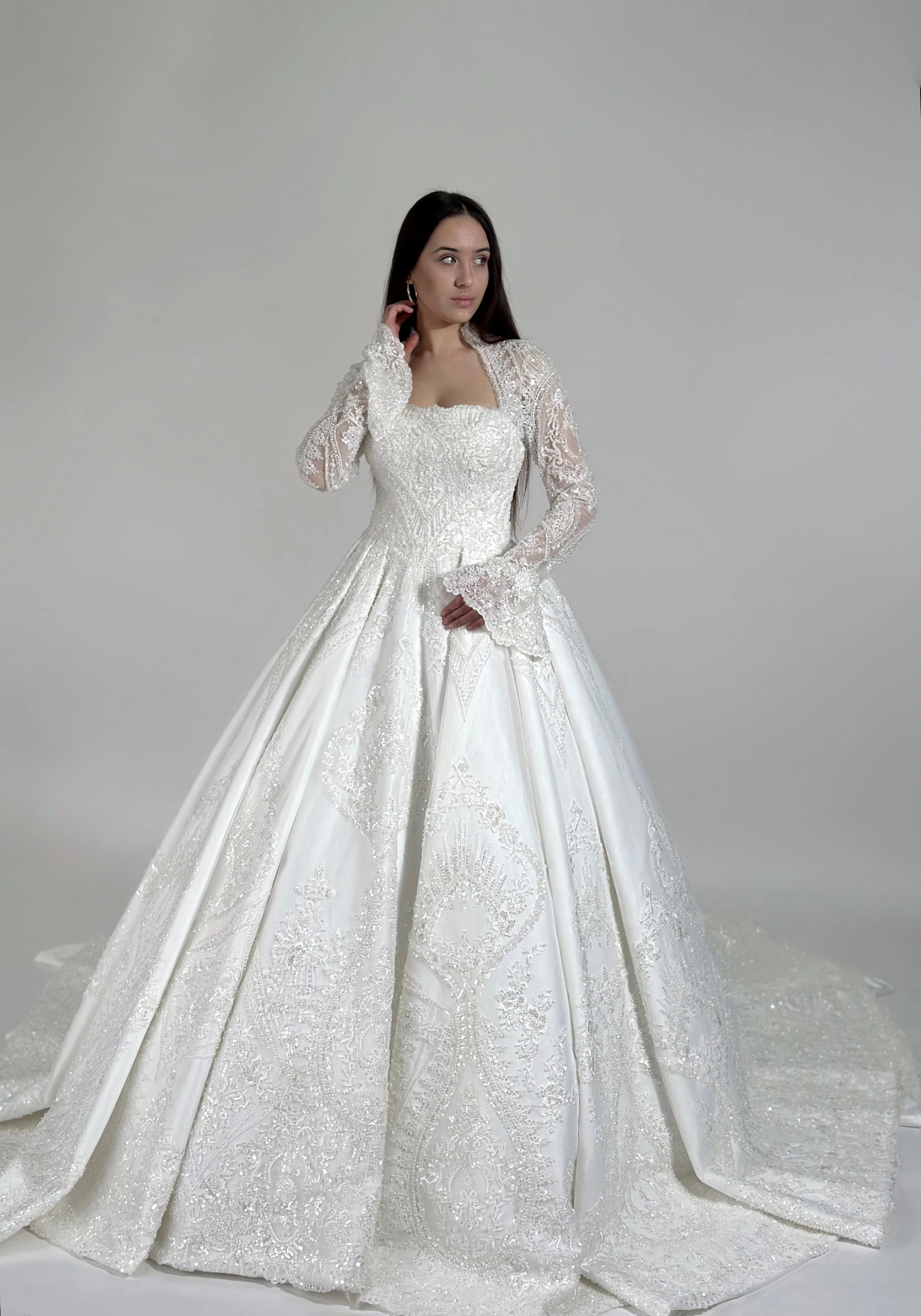 From the Iron Age to modern times
It is interesting that scientists find the oldest traces of embroidery all over the world – from China and Northern Europe to Egypt, and it is quite natural that wedding dresses from ancient times also had elements decorated with hand embroidery:
In ancient Mesopotamia, the bride was required to wear an embroidered shawl after her wedding
In Byzantium, brides were supposed to dress chastely, so a wide dress lavishly decorated with embroidery and precious stones was worn over a closed tunic made of heavy fabric.
In the time of Napoleon, silk embroidery was actively used not only to decorate, but also to seal the bodice, at the same time the first princess-style wedding dress was sewn
During the Victorian era in England there was a boom in the so-called Broderie Anglaise, which looked like lace by cutting many holes in the fabric, which were then tightly overcast. At that time, the edges of the puffy sleeves of the undershirt, which was worn under the wedding dress, were decorated with such embroidery.
Dream Bridal Couture: contemporary hand embroidery in the best wedding traditions
Times change, but truly significant and valuable things remain in the traditions of various peoples for centuries. The same thing happens with traditional embroidery on wedding dresses and veils – its character and execution are changing, new modern materials are used, improved techniques are used, but this in no way reduces the interest of brides from all over the world in high-quality hand embroidery on designer wedding dresses, and Dream Bridal Couture experience confirms this.
Today we sew wedding dresses for brides from Europe, USA, Canada, France, Germany, Romania, Belgium, Netherland, UAE, Saudi Arabia, Morocco, Libya, Nigeria and more. In addition, if you want to buy wedding dress in USA, Canada, Japan, or any Asian or European country, visit our website dream-couture.com, where you can view the catalog and order a custom-tailored dress exactly to your measurements. And, of course, our best craftswomen will work on your exclusive embroidery for your wedding dress!