Data transfers between an android device and another are often difficult to handle, but there are some useful solutions for this problem. New advancements in technology have made it possible for users to transfer data from old or broken phones to new ones. In the past, these techniques required a third-party source to extract data from one phone and put it on another, but now all you need is an app. One such app is Wondershare MobileTrans-phone transfer. This app will allow you to transfer apps, contacts, photos, videos, music, and many other things that you could ever want onto your new Android mobile device.
Transfer Data From Android To Android in 2022
A person can transfer data from android to android using various methods. But here are some best ways to transfer data from android to android easily. The data can be transferred in a few minutes depending on the size of the data. To use this app, follow these steps.
First Method: Transfer Mobile Data from Android to Android Using Wondershare MobileTrans-phone transfer
Wondershare MobileTrans-phone transfer is a phone to phone transfer app that lets you quickly and easily transfer phone data between two Android phones. It's easy to use, requires no cables, and can be downloaded for free through the Google play store. It's an app to transfer contacts, SMS, call history, and other important data from one Android phone to another.
Step 01: First of all,  you need to download Wondershare MobileTrans-phone transfer and launch this toolkit. Then on the first screen of the toolkit, you need to click on the "Phone Transfer" option.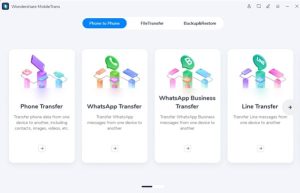 Step 02: Now you connect your both mobile devices to a computer with data cables. Then his toolkit will detect both mobile devices automatically and give you file and folder choosing option, which you want to transfer from android to android.
Step 03:  In the end, you need to click on the Start button to transfer your old android phone data to the new android phone device. When it's done, a 100% complete option appears on the screen of the toolkit. Here you disconnect your mobile devices and check to make sure your mobile data transfer successfully.
Second Method: Transfer photos and videos Android to Android Device using Google Photos
Google Photos does a great job of storing photos and videos taken with your Android phone. But what if someone has a new phone and wants to transfer all their images over to it? Google Photos makes it easy to do, you just need to know-how. Here are a few steps to follow to transfer your Android Data into your new Android device.
Step 1: First, visit Google Photos on your phone
Step 2: Now you will be asked to automatically activate the backups with regard to opening the application's Photos segment if this feature isn't currently turned on. Then, click on the box shown in the image.
Step 3: When you turn the backup on, you'll be asked whether you prefer the original quality or the storage saver. You can see the default backup settings in the image.
Step 4: Now you must unbox your new phone and get ready to set it up. There are numerous techniques to recover data from an older device, but I am going to discuss the method that is easiest for you. Then proceed to the succeeding steps to take data from your old Android phone to a new one.
Step 5: Shortly after exchanging your smartphone, you will be requested to choose a language, after which, click on start.
Step 6: Now choose your home Wi-Fi network and sign in as illustrated in the image.
Step 7: Afterward, you will be prompt to copy apps and data as shown in the image. Click on next.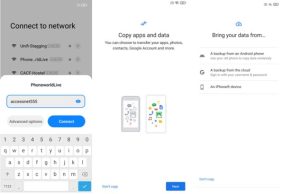 Step 8: You will be prompted to move between three potential source files when you choose Next. Tap on the option named 'Downloading from an Android telephone backup.'
Step 9: Now you will be asked to keep the Google app open on your older Android device as you can see in the image.
Step 10: Locate Google on your older phone and launch the app. Then, say, "Click here to set up my device," or type the same query into the Google Search bar. Once that's done, you'll be directed to the Getting Started page on your old phone. Click on the next arrow.
Step 11: Afterward, verify the shapes on both the devices and click on Next as illustrated in the image.
Step 12: Lastly, as you click Next, you will be asked to 'copy to your new device' as you see in the picture. Click Copy and you will be capable of transferring all the data from your old android device to a new one.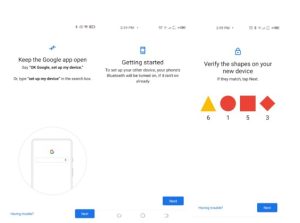 Final Thoughts
Although transferring data from one phone to another is not a difficult task, there are still many you use to transfer phone data from android to android easily. In this article I talk about two different ways to transfer data from phone to phone. I hope these two methods are really helpful for you.