The world of animals is always a mysterious world for the human race, especially children. Your kids can see cats, dogs, birds, fishes or some normal pets. However, wildlife is still very interesting but not all children have a chance to see. In the context of the wild species being endangered and facing many dangerous threats, teaching children to love wild animals is very important. They are future generations and will be in charge of protecting our green planet. If your children don't have a chance to visit national parks or nature reserves, why don't you have them color animals' pictures in our coloring pages? In our coloring pages, we have collected many fascinating images of animal species. Therefore, your kids can see a beautiful world with various wild species and they will nurture their love for nature. However, you should allow your children to get acquainted with this world slowly so that they can remember all species. Firstly, you should let them try Lizard Coloring Pages and Squirrel Coloring Pages. They are two of the most simple coloring pages about animals on our website and we are sure that your kids will love them.
Lizards are one of the most pivotal species in the natural world. However, not all people like researching about them because their appearances are not as attractive as other species. It is a wrong viewpoint because the world of lizards is very interesting. Lizards play an important part in balancing biodiversity. Therefore, if your children know about this species, your kids will protect them although they don't love lizards. It is very good for nature when each citizen has knowledge about nature and is ready to protect them.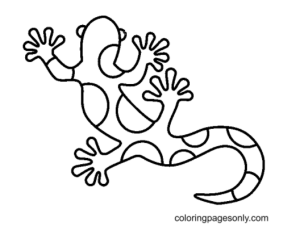 Aboriginal Lizard Coloring Pages
In our Lizard Coloring Pages, we have put many efforts in collecting beautiful pictures about lizards. We want to bring cute images of lizards to children so that they will know that lizards are an integral part of our world. Although there are various lizard species, we have posted some popular species, including some species we can meet in our daily life. Thanks to this, children will understand that lizards are not a mysterious species and if we don't protect them, they will be extinct in the near future.
To color lizards, you should guide your kids to use variou colors. Don't force them to color lizards as real individuals, you can use different colors to give them cute appearances. It will be very cute and who knows, you children will love studying about lizards?
Other wild species, squirrels are a species that live very near humans. You can see some squirrels in a tree or search for food in your garden. Squirrels are very familiar with the human environment so that your children can see squirrels easily. Squirrels are very friendly and they won't hurt people, therefore in some western countries, people love squirrels and let them search for food freely. If your kids love squirrels but they don't usually see squirrels, our Squirrel Coloring Pages will be their valuable chance to create their own squirrels.
Hungry Squirrel Coloring Pages
If some lizard species have scary appearances, squirrels are very cute. You can easily see squirrels in many animated movies. They have two long teeth and have a hairy tail. In Particular, squirrels are very funny and they are not valiant characters in animated movies. Based on these data, we have collected many cute images about squirrels to attract children. With a funny smile and cute poses, our squirrels are very friendly and easy to color. 
When your children want to color squirrels, you should sit down and spend time with them. For example, you should help them to choose suitable colors to color squirrels and other details to make pictures colorful. Besides, you should also tell them about squirrel species and their roles in biodiversity. If you understand about this field, some stories about threats of squirrel species are very interesting and you can teach your children to build their love for squirrels in particular and nature in general.
In some cases, you can take children to zoos to see real squirrels so that they will give inspiration to color our pictures. It would be good if your kids know more about their surrounding world.
Conclusion:
Our coloring pages are created for both children and adults because coloring is a good hobby. Coloring can help them to relax and balance their feelings. If your children are tired of studying or other problems, you should let them color our Lizard Coloring Pages and Squirrel Coloring Pages. Our pictures are high-quality and free to download. You should choose suitable pictures for your kids and print them out. Then you can help your children to color them and make their own masterpieces. Don't forget to create memorable memories with our coloring pages. I Hope you and your children have a great time with our coloring pages!